Welcome to Blooming Buds Co - Ed.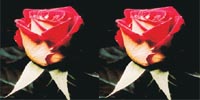 Blooming Buds Co. Ed. School was founded by Mr. Fakhrul Islam, a Law Graduate from A.M.U. and supported by his wife Mrs. Shama Afroz. They believe in the principles and ideals of Sir Syyed Ahmed Khan, the founder of A.M.U.. The School was established on October 30, 1993 under 'Canny Welfare Society' registered under Government of India, Society Registration Act 1960 (Registration No. 291-year 1994-95). This School is Co-Educational and is situated on the Joya Road, 1½ Kms. from the railway station. The ICSE Board syllabus is taught in the above mentioned School. It caters for classes Nursery to VIII. The medium of instruction is English at all levels.
Our Commitment
AMBITION
To impart Moral , Mental, Physical and Social Education.
MISSION
To provide Value-Based and True Education with modern teaching techniques and methods supported by professionally qualified and trained teacher.
AMBITION
To be pioneer in the area of Value-Based and True Education and overall Personality Development.

Read More
News & Events
Visitor Counter: